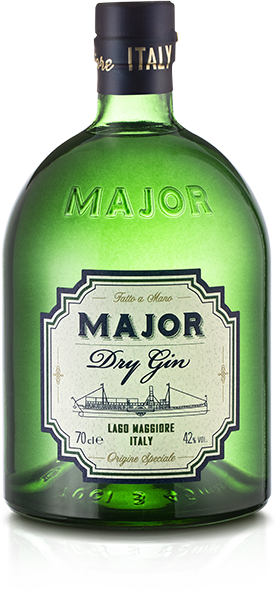 Tasting impressions

At sight they affect absolute purity and transparency.
On the nose the first perception is the intense aroma of juniper and citrus fruits.
When tasting it, you can perceive the note of Tea given by the infusion of the leaves of Camellia Sinensis. The whole is rightly dry as pure tradition dictates, with the pleasantly aromatic touch given by citrus fruits and tea.
Raw material

The two characterizing ingredients have their origin in the territory of Lake Maggiore. The citrus touch is given by lemons and oranges harvested by hand in a historic citrus grove in Cannero Riviera, on the Piedmont side of the lake, almost on the border with Switzerland.
The Camellia Sinensis, from which the tea leaves are obtained, is grown on the hills facing the lake in the largest European cultivation of this plant.
Alpine juniper berries complete the picture of the ingredients.
Distillation technique

According to the Major Company exclusive recipe, the first step is the infusion of Alpine juniper berries, Camellia Sinensis leaves and lemon and orange peel from which an infusion is obtained which is then distilled. The distillate obtained is extremely concentrated, it is then mixed with additional alcohol from cereals and spring water to create Major Dry Gin.
Alcohol content 42%